Can you go home again?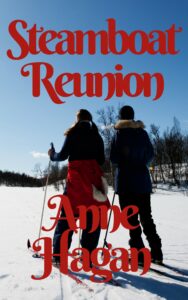 Barb knows she loves Janet, but she's not sure she's ready to take the next step and commit for life, not again, not so soon. No one is saying it, but she knows they're all thinking she should just move on.
Janet is in love with being in love and Barb is the object of her affection and devotion. She won't stop until they're married. Oh, she'll be patient, or so she tells everyone who will listen. She'll wait. How long will she have to, though, she wonders?
Just when the two of them start to work things out, Janet is injured on the job and an old high school crush of Barb's comes back into the picture, a crush who wants things to be the way they were, twenty years before. Both things send Barb into a tailspin of regret and old memories.
This is the third and final 'Barb and Janet' story. It isn't necessary to read Broken Women or Healing Embrace first, but the author recommends it.
Get Steamboat Reunion: