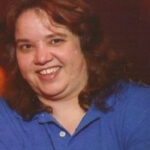 Anne Hagan is a wife, mother, foster parent, an author, and co-owner of MyQueerSapphFic. She also recently stepped in as the executive director of iReadIndies. She writes whenever she can steal a few minutes away from family life and her other duties.
Anne uses the tagline 'Family, Friends, Love, Murder, and Mayhem' to describe her work. Her books are known for featuring lots of interaction between family and friends. She started writing novels with her mystery novel, Relic, so murder and mayhem often play a role as well. Love is featured in all of her work, no matter if the story is a mystery, a romance, or a (legal) thriller.
She and her wife live in a tiny town that's even smaller than the Morelville of many of her fiction novels and they wouldn't have it any other way. Anne's wife grew up there and has always considered it home. Though it's an ultra-conservative rural community, they're surrounded there by family, longtime friends and many other wonderful people with open hearts and minds. They enjoy spending time with Anne's son, with their foster and adopted children, with their nieces and nephews and doing many of the things you've read about in her books.
Memberships:
Anne is a member of the iReadIndies Collective, Golden Crown Literary Society  and of the Lesbian Author's Guild.
 5 Fun Facts About Anne:
Anne can't carry a tune in a bucket or play a musical instrument. In fact, she has no artistic talent at all beyond writing. The ability to complete simple elementary school crafts often eludes her. Her wife has to help their foster children with such projects while Anne focuses on their language arts homework.
Anne was raised in Western Pennsylvania in a family of rabid Pittsburgh Steelers fans. Her parents leave their Christmas tree festooned with Steelers ornaments up every year until the Steelers are out of the NFL playoffs.
Anne graduated from high school at age 17 and went right into the Army. Her mother told her she'd never make it in the Army because she didn't like to take orders from anyone. After a 21 year career of combined active duty and National Guard time, she's the only one laughing now, and she'll laugh all the way to the bank when those retirement checks start coming at age 60. Age 60 seems to be coming faster and faster…
Anne is afraid of needles. As a child, she had to be pinned down for shots. During her Army career, someone typically had to hold her hand during mandatory immunization times. Blood draws have always been an adventure in near fainting experiences for her. She did willingly get her Covid-19 vaccines and managed not to embarrass herself – twice – in a gymnasium full of socially distanced people waiting to get theirs! And then she got a booster at a pharmacy, in a little room with just her and a nurse and her 2-year-old daughter looking on. She did her best to be brave.
People still marvel at Anne's sense of hearing. Nothing gets by her. Don't try and chide her under your breath because she'll hear you. Not only that, to bring her vision up to par with her ability to hear, she had laser vision surgery years ago. Her eyes are aging now and she wears reading glasses, but she can still see better than most people… or so she says. Shh! She'll hear us!