Ten sizziling stories of sapphic romance and more, brought to you in the scorching dog days of summer!
T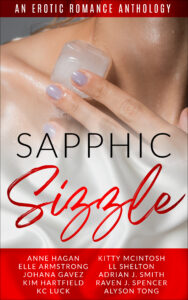 ake a break with me and these bestselling indie authors. They promise to turn up the heat!
Before Dana ~ Anne Hagan
In Your Hands ~ Johana Gavez
My Edinburgh Awakening ~ Kitty McIntosh
Return of the Brat ~ Kim Hartfield
Silly Girl ~ Adrian J. Smith
Strawberry Squash ~ Elle Armstrong
Three-Hour Delay ~ LL Shelton
Under Her Spell ~ Raven J. Spencer
Work Week ~ KC Luck
Desire and Brimstone ~ Alyson Tong
Available at Amazon, Barnes & Noble and other retailers where paperbacks are sold. This is no longer available as an eBook.