Holly Folly: Home for the holidays never felt so complicated.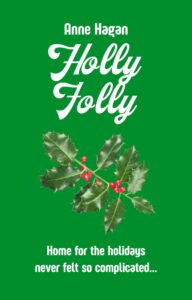 When Joelle returns home to the little Michigan town of Butternut for the holidays after many years away, romance is the last thing on her mind, but a planned encounter to confront her best friend from high school, her first girlfriend, stirs up long-buried feelings.
Sid is now a successful romance author, and Joelle believes Sid's latest Christmas book slanders her. Yet as they spend more time together decorating the town and helping Sid's family foundation, Joelle starts falling for Sid all over again.
Just when it seems they may find a way to rekindle their romance, a threat from Joelle's past endangers their holiday and their future. To keep her new love, Joelle must confront her past and open her guarded heart.
Can two friends, to almost enemies, and back to friends, become more than that once again? Find out in this heartwarming story about coming home and finding love in the most unexpected place. Even long-lost loves deserve a second chance at Christmas.