Queen Vs Queen: She meets her match!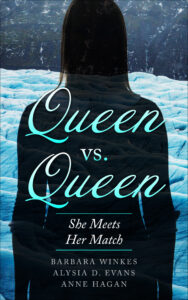 When ice queens converge at a business conference, they exhibit ultimate control, authority, and strength. The conference forces the women to show their vulnerabilities. Will they thrive in the training situation? Is there a chance that any romantic unions could form? Or will any sparks of romance remain hidden beneath the icy exteriors of the attendees?
Three novellas of power and passion, all with a Happily Ever After.
***
Sunset to Sunrise by Barbara Winkes
When ice meets ice, can passion melt away the pain?
Isabel Windsor is confident in her leadership qualities. When her bosses send her to a seminar at the International Leadership Institute for Women after a confrontation with a client, she sees it as an affront. She is determined to make it clear that she doesn't need any help.
Grace McAllister has decided to make the best of a bad situation: After getting fired from her old job, she plans to start her own business, and hopes to make connections at the same institute. What she doesn't expect is to run into a woman she has met before—Isabel.
Sparks fly—again—when Isabel and Grace try to navigate these complicated circumstances. Against the picturesque backdrop of Quebec City, they must choose whether they want to be enemies or allies in a cutthroat world, and if there's a future for them beyond another chance meeting.
***
Adrenaline Kisses by Alysia D. Evans
When insubordinate Meryl and uptight Polly meet at a business coaching conference, there is instantaneous conflict and friction.
Forced by a conference organizer to work together, the pair agree to complete the assigned activity, tick the box, and then go their separate ways. Ideally, this was the perfect solution, until Meryl provokes confrontation by delving into Polly's personal life.
In response to Meryl's intrusive behavior, Polly suffers a seizure, and onlookers expect Meryl to help her so-called friend. Polly's illness reluctantly pushes the twosome together. They are compelled to endure activities outside of the conference and demonstrate they can develop a supportive network.
Is it possible for two women from contrasting ends of the social spectrum to find common ground, enjoy spending time together, and develop an intimate rapport? Find out in this irresistible ice queen romance.
***
Turning Two by Anne Hagan
If your flame constantly singes others, maybe you need a dose of your own medicine.
Tonya and Abigail, two forces of nature from different worlds, face off against their own worst enemy: themselves. Tonya, a sharp-tongued trailblazer in a man's world, and Abigail, a surgical mastermind with a bedside manner worse than her scalpel.
When they come to realize they have been both sent to a conference to learn and grow, their simmering rage boils over. To rid themselves of their mutual disdain, they must take a dose of their own medicine: learning how to co-exist.
With their tempers flaring, they face off in a fierce battle of wit and will. Will they learn to work together, no matter how much they clash? Or will they be forever changed by their own flames? The only thing certain is that the outcome will leave a mark.
Like ice queens? Here are three full-length stories with twice the fun and so many other things you like in your sapphic stories, like forced proximity, age gap, enemies to lovers – of course, – multi-racial relationships, rich/poor, butch/femme, medical, military, sports and so much more. These queens have it all!