The Passed Prop is the first book in a spin-off 'cozy' mystery series featuring more of the supporting cast of family characters and local villains from the 1st series, the Morelville Mysteries. The book stands alone but, if you're interested in getting all of the Crane and Rossi families back story, you should check out the fifth book in the first series, Viva Mama Rossi!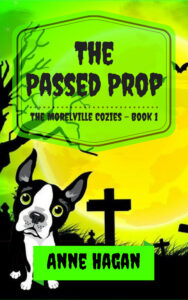 Synopsis:
Chloe Rossi wants to retire with her husband and move away from suburban sprawl to bucolic Morelville; the only trouble is, Morelville is experiencing its worst crime wave ever and Marco Rossi wants no part of a move there. What to do?
Faye Crane would like nothing more than to have her good friend Chloe move closer to her and to Chloe's own daughter. She's got Chloe convinced it's a smart move but Marco is a tougher nut to crack. A string of brutal crimes around Halloween with no witnesses and little evidence to work with has Faye's Sheriff daughter and her entire department stymied. Marco is second guessing even taking his retirement since Sheriff Mel can't get a handle on it all and bring peace and well-being back to the tiny village.
Someone has to root out a killer. Can Faye and Chloe nose around and figure out what the police can't to solve the crime? If they do, will Marco still waver or will he consent to move?
Get The Passed Prop:
The first book in the Morelville Cozies series is available at Amazon as a Kindle eBook, in paperback: The Passed Prop: The Morelville Cozies – Book 1
Also available as an ebook from most other major e-retailers including Apple iBooks, Kobo, Nook and more. 
Look for The Passed Prop anywhere you prefer to buy your eBooks and, as always, thanks for reading!