A delayed honeymoon getaway takes a deadly turn for newlyweds Mel and Dana. Meanwhile; meddling mothers  Faye Crane and Mama Rossi won't let sleeping fisherman lie in the latest Morelville Mystery.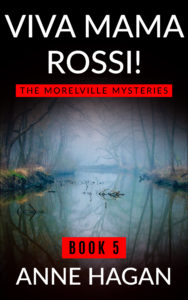 Does an unsolved shooting death far away from Morelville have local ties? Did a fisherman really drown or was there something more sinister afloat?
All Mel and Dana wanted was to enjoy a nice, relaxing honeymoon in the Smokey Mountains, away from the strains of life in the public eye. Instead, they end up involved in a case local law enforcement has completely written off. Things are no better back home where their own mothers, Faye Crane and Chloe 'Mama Rossi' are stirring up an all new hornets' nest that they think Mel and her own department have written off.
If there is going to be any rest for anyone, something is going to have to break in one case or the other…
Available at Amazon for the Kindle and in paperback at: Viva Mama Rossi!: The Morelville Mysteries – Book 5