The old-fashioned country village of Morelville Holds a secret; a secret that could tear Faye's family apart.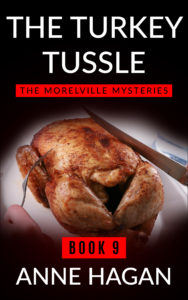 Faye Crane has the perfect life as a homemaker, farmer's wife and grandmother…or she did until her daughter-in-law Dana went and stirred up a mysterious murder, never resolved and long buried in the Lafferty family lore – before Faye ever became a Crane. Now she's been reminded of some startling questions about her families past that she's not sure she wants to know the answers to.
Dana knows to tread lightly around Faye. Their relationship is far from perfect but she just can't help herself. She's certainly intrigued by the unsolved case. The down to earth, gentle residents of the village are more than happy to fill her in on all of the old gossip too. She even gets an education in oil drilling and backroom poker along her way to trying to clear the Lafferty family name and bring some closure to her mother-in-law. The question is, can she figure it all out? And, if she does, will the Lafferty's and the Crane's be better off or far worse?
This book is great together with Books 1-8 of The Morelville Mysteries series to get all the Dana and Sheriff Mel (and their extended families) back story but it can also be read as a stand-alone mystery.
Where to buy The Turkey Tussle:
The Turkey Tussle is available at Amazon as a Kindle eBook and in paperback at: The Turkey Tussle: The Morelville Mysteries – Book 9