The politics and the paper-pushing are wearing on Sheriff Mel. Will she chuck it all?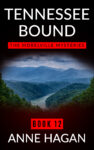 Mel's burned out. She's tired of playing local politics. She's tired of the mounds of paper on her desk that never seem to diminish. She's tired of budgets, of personnel conflicts, of citizen complaints and all of the other things a sheriff is responsible for. She misses police work. Real police work, but she knows she can't go back to the street. Not in Muskingum County…maybe not in Ohio.
Dana bought a cabin – a nice little getaway for the two of them in Tennessee. Mel's mom is worried her daughter will fly the family coop and roost in Tennessee full time; maybe she'll even take a street cop job there.
Dana and Mel head to Tennessee to see their new home away from home, to take a breather from work and family and to talk about the future. Mel's future. Their future. Mel has some surprises for Dana, but her thoughts on stepping down as Sheriff and where she's thinking about going next take a backseat to what happens in the midst of their getaway.
This book is great together with Books 1-11 of The Morelville Mysteries but it can also be read as a stand-alone mystery.
Where to buy Tennessee Bound:
Tennessee Bound is available at Amazon as a Kindle eBook and in paperback. You can get it there with this link: Tennessee Bound