Rival gangs will stop at nothing to gain sole control of the drug trade in Muskingum County and they've picked Valentine's week to create a firestorm of murder and mayhem for Mel as they battle each other for supremacy.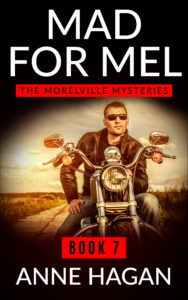 Sheriff Mel Crane is blindsided by looting, murdering and marauding bikers at a time of year when most Harley's are tucked safely away from the effects of Ohio winters that come rife with snow and ice. They're rolling out, they're out of control and she can't stop them. On the home front, she's feeling guilty about spending hardly any time with Dana, especially when she knows Valentine's Day is right around the corner…or so her mother-in-law keeps reminding her.
Dana just wants Mel to be safe; she has her own problems to worry about. Her attempt at novel writing isn't going as well as she hoped and she's bored. She got a little taste of what it was like to be an investigator again and she misses it. What to do?
Get Mad for Mel:
Available at Amazon as a Kindle eBook, and as a paperback: Mad for Mel: The Morelville Mysteries – Book 7