Mel and Dana attempt to bring their growing relationship full circle in the fourth Morelville Mystery, Hitched and Tied, but family, duty and family duties all conspire to get in the way.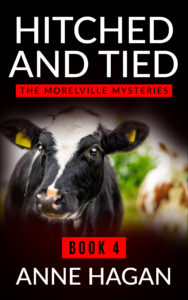 A victim with close ties to the Cranes escapes a deadly assault with his life only to die from his injuries minutes later. Mel has few clues to find the fighter turned murderer and the further she goes with her investigation, the more the situation deteriorates. Meanwhile, Dana's trying to plan their wedding but the family is resisting both her efforts and the wishes of the couple while focusing more on her sister and her traditional relationship.
Family angst, violent crime and more than a few Holstein steers abound as Dana and Mel fight against the odds to solve Mel's case and find their own happily ever after.
This book is great together with Books 1 through 3 to get all of the Dana and Mel backstory but it can also be read as a stand-alone mystery.
Get Hitched and Tied (the book…or, suit yourself!):
This fourth installment in the Morelville Mysteries series is  available at Amazon where you can purchase it as a Kindle eBook or as a paperback: Hitched & Tied – The Morelville Mysteries – Book 4