In Hannah's Hope, a young mother with a troubled past seeks help from Mel and Dana but is their effort to assist her too little, too late?
 Hannah Yoder appears on Dana and Mel's doorstep late one night with her teenage friend Katie and Katie's newborn baby in tow telling the couple the girl and child are in trouble and have no place else to go. Dana and Mel offer refuge for the night and a firm promise to talk about the future. Plans are barely made when first one mysterious tragedy strikes and then another leaving Mel, Dana, Hannah and the Crane and Rossi families with few clues and little hope.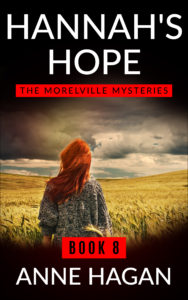 Mel knows there's a killer out there; she just doesn't know where to start looking. She's stonewalled at every turn and running out of time. Somebody knows something that will unlock the mysteries swirling all around, but who?
This book is great together with Books 1-7 of The Morelville Mysteries series to get all of the Dana and Mel back story but it can also be read as a stand-alone mystery.
Available at Amazon as a Kindle eBook and in paperback at: Hannah's Hope: The Morelville Mysteries – Book 8