A woman, imprisoned for manslaughter, disappears without a trace during transport between states and it's all up to Dana to find her.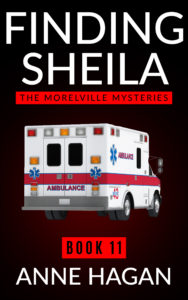 Sheila Ford traveled to Tennessee planning to commit an act of pre-meditated murder on her husband. Her lone shot at him misses and kills his lover instead. After pleading guilty to a manslaughter charge, she's locked away in a Tennessee prison for women. Everyone back home in Ohio wrote her off. She wasn't eligible for a parole hearing for seven years.
When Jennifer Coventry calls begging Sheriff Mel Crane to bring her ailing mother home to Ohio to serve out the rest of her sentence in the county jail, close to home, Mel is reluctant but gives in. The only problem is, she's so short staffed and can't send a deputy to do the transport. She deputizes Dana to do the duties.
Dana planned to go to Tennessee anyway, to look at a vacation cabin for herself and Mel. A little detour over to Nashville to connect with Sheila and the ambulance transporting her to Ohio won't be hard, she thought…until everything that could go wrong does, ending up with Sheila disappearing during a rest stop.
A multi-state manhunt is on to find the escaped convict and return her to prison, but the circumstances of her disappearance go far deeper than anyone could have imagined.
This book is great together with Books 1-10 of The Morelville Mysteries but it can also be read as a stand-alone mystery.
Where to buy Finding Sheila:
Finding Sheila is available at Amazon as a Kindle eBook and in paperback. You can get it there with this link: Finding Sheila