Is it the Christmas season or the 'silly season'?
All Sheriff Mel wants to do is close out the year and spend a joyful first Christmas with Dana and with their extended families. She's even hired a new detective, Janet Mason, to ease some of the workload for her and her only other detective, Shane Harding. Things were shaping up great for her and Dana for a relaxing holiday season. Too bad it just wasn't meant to be…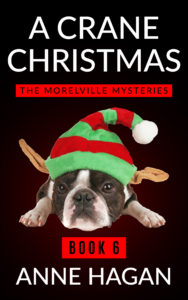 The local criminals want it all too and a string of burglaries in high-class county enclaves have Mel and both of her detectives stymied. Throw in a bunch of disappearing dogs, some designer sheep, a lonely woman and an unsolved murder case, and the good guys are at their wit's end. Meanwhile, back in tiny little Morelville, things aren't much better; the village is buzzing over Dana's family taking over the store but Dana herself isn't so sure that's a good thing.
Can Mel and her team resolve everything before Christmas dinner comes out of the oven? Will Janet Mason fit in at all? Will Dana find a balance between work and family that works for her in time to enjoy her first Christmas with Mel?
Available at Amazon as an eBook for the Kindle and in paperback at: A Crane Christmas: The Morelville Mysteries – Book 6