Romance and Murder Mix in the Latest Story Featuring Sheriff Mel Crane and Special Agent Dana Rossi, Busy Bees!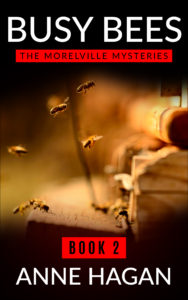 Customs Special Agent Dana Rossi is down but not out after being shot and seriously injured during her previous assignment. Will romance blossom or will sparks fly when she agrees to shack up in Morelville with the beautiful butch Sheriff Melissa 'Mel' Crane and her extended family while she recovers?
Will murder get in the way of love? If murder doesn't, will life in a house with children or a political campaign keep them apart? Can Mel solve two major crimes and keep her former job on the road loving girlfriend happy in a tiny town?
This book is great together with Book 1, Relic, to get all of the Dana and Mel backstory but it can also be read as a stand-alone mystery.
Get Busy Bees:
Available at Amazon for the Kindle and in paperback at: Busy Bees: The Morelville Mysteries – Book 2