New Giveaways Coming soon!
Visit this page often for news of giveaways and contests. More coming soon!
~~~
Just Ended: The August/September, 2017: Epic Lesfic Giveaway of Autographed Lesfic Books 
The winners are:
Grand Prize: Sandy Ungar, USA
2nd Prize: Karen Hesse, USA
3rd Prize: Deb Amia, Canada
Special Sharing Prize: Karen McIntosh, Scotland
Congratulations to the lucky winners and our sharing champion. The 3 winners shared in a bundle of 43 autographed Lesfic paperbacks (a total retail value of over $500) that spaned the genres of fantasy, mystery, romance, sci-fi, suspense and more.
The Grand Prize winner received 24 signed books, chosen at random from the collected works, the Second and Third prize winners got 12 and 7 signed books respectively. The Sharing Prize Winner also got autographed books.
The winners received an assortment of books from the following authors and books listed:
S.W. Andersen – Switchback
Eliza Andrews – Anika Takes the Long Way Home Up Soul Mountain
Kelli Jae Baeli – Armchair Detective
Kelli Jae Baeli & Melissa Walker-Baeli –  Go, Leave, Stay
Karen D. Badger – 1140 Rue Royale
C.L. Cattano – Salvaggio's Light: Shattered Paradise
KB Draper – Demons Shemons
Lynn Galli – Cliched Love, One-Off and Uncommon Emotions
Layce Gardner & Saxon Bennet – Heart to Heart
Ana B Good – The Big Sugarbush
Anne Hagan – Relic and Broken Women
Fran Heckrotte – The Illusionist, Solaria, The Who Chronicles
Patty Henderson – Passion For Vengence
EA Kafkalas – Frankie & Petra and The Second Heart
Lori L. Lake – Eight Dates, A Very Public Eye and Jump the Gun
Miranda MacLeod – A Road Through Mountains
Rachel Maldonado – Rookie
T. B. Markinson – The Chosen One
Heather McVea – Fallen Elements & Hidden Elements
Penny Mickelbury – Keeping Secrets
Niamh Murphy – Escape to Pirate Island
Ashley Quinn – Summer of Love
Michele M. Reynolds – Love's Autograph
Rhavensfyre – The Misadventures of Two Reluctant Zombie Hunters: 'Zombies at the Con', and also 'Hospitals are Hell'
Kory M. Shrum – Dying for Her
M. E. Tudor – Suddenly
Vanda – Juliana
Caren J. Werlinger – Neither Present Time
 B.L. Wilson – Tiger Eyes
Enter soon and share this challenge often. Winners will be chosen randomly, AND there will be a special prize for the entrant that shares the most!
The competition ends at 11:55 PM, EST on September 15th, 2017.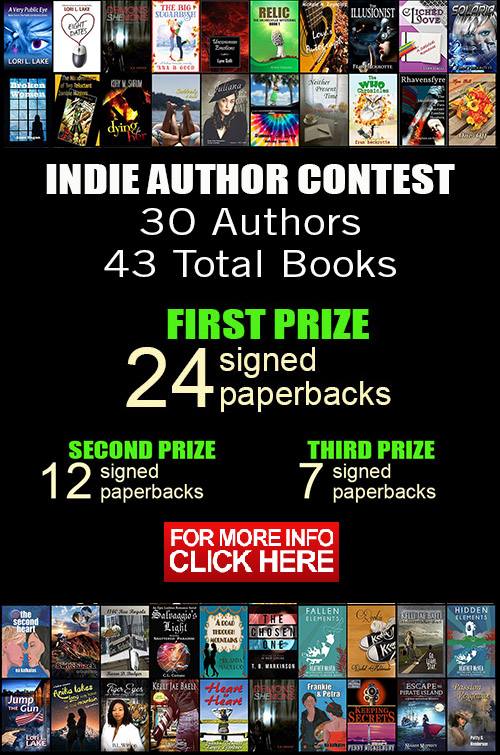 This contest is over and the winner is: April Adams! Look for another great – and completely different – contest soon sponsored by Anne and her friend and fellow lesfic author, EA. Kafkalas. In the meantime, check out the 42 lesfic eBooks that made up this contest.
###
I'm hosting a lesfic eBook library giveaway and you could win! On July 31st, 2017 one lucky winner will be the brand spanking new owner of 42 lesbian fiction eBooks valued at over $340.
Some are contemporary and some are a bit more classic. They span the genres of fantasy, literary fiction, mystery, romance, sci-fi and suspense but all are totally lesbian. You can binge read lesfic for the rest of the summer!
The books will be gifted via Amazon to your Kindle device or to your Kindle software so you can read them on any device. If you're a long time lesfic reader like me, you probably already own some of them. If that's the case, I'll be happy to gift the titles you choose to anyone you choose to receive them on your behalf.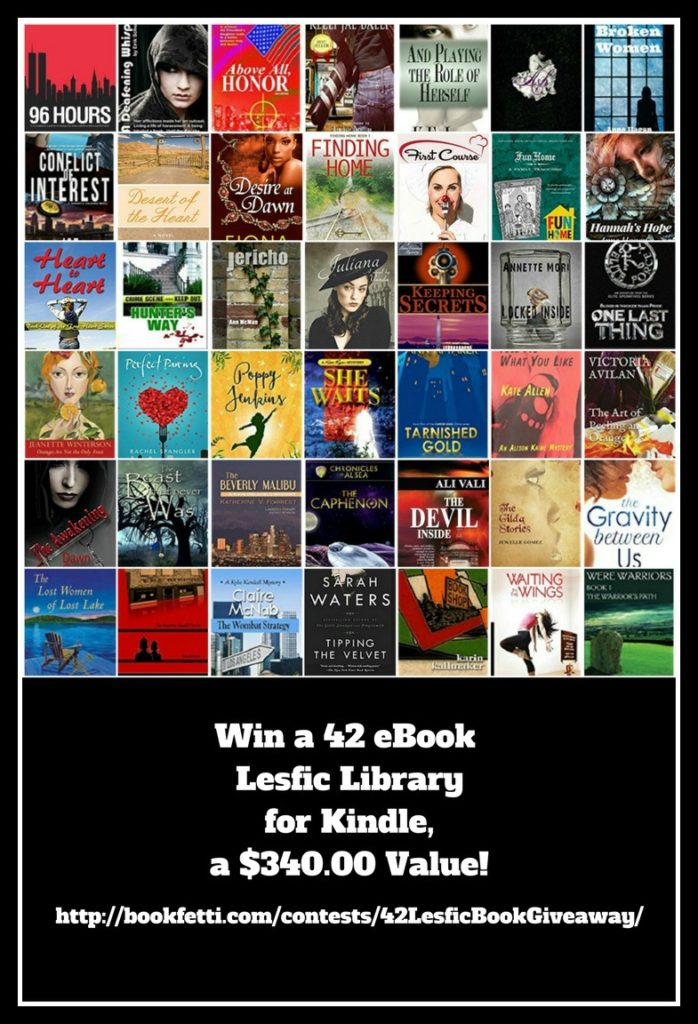 It's winner take all in this giveaway ladies! You get:
96 Hours by Georgia Beers
A Deafening Whisper by Erik Schubach
Above All, Honor by Radclyffe
Also Known As Armchair Detective by Kelli Jae Baeli
And Playing the Role of Herself by K.E. Lane
Ash by Malinda Lo
Broken Women by Anne Hagan
Conflict of Interest by Jae
Desert of the Heart by Jane Rule
Desire at Dawn by Fiona Zedde
Finding Home by Shelia Powell and Liz McMullen
First Course by J. A. Armstrong
Fun Home by Alison Bechdel
Hannah's Hope by Anne Hagan
Heart to Heart by Saxon Bennett and Layce Gardner
Hunter's Way by Gerri Hill
Jericho by Ann McMan
Juliana by Vanda
Keeping Secrets by Penny Mickelbury
Locked Inside by Annette Mori
One Last Thing by Kim Baldwin and Xena Alexiou
Oranges are Not the Only Fruit by Jeanette Winterson
Perfect Pairing by Rachel Spangler
Poppy Jenkins by Clare Ashton
She Waits by Kate Sweeney
Tarnished Gold by Ann Aptaker
Tell Me What You Like by Kate Allen
The Art of Peeling an Orange by Victoria Avilan
The Awakening by Dawn Carter
The Beast that Never Was by Caren J. Werlinger
The Beverly Malibu by Katherine V. Forrest
The Caphenon by Fletcher DeLancey
The Devil Inside by Ali Vali
The Gilda Stories by Jewelle Gomez
The Gravity Between Us by Kristen Zimmer
The Lost Women of Lost Lake by Ellen Hart
The News in Small Towns by Iza Moreau
The Wombat Strategy by Claire McNab
Tipping the Velvet by Sarah Waters
Touchwood by Karin Kallmaker
Waiting in the Wings by Melissa Brayden
When Women Were Warriors: Book 1 – The Warriors Path by Catherine M. Wilson
You can read my original post with a brief synopsis of each book in this giveaway here.
Enter soon and share the challenge often for more chances to win! The competition ends at 11:55 PM, EST on July 31st, 2017. The winner will be drawn and announced on this blog on August 1st.