New Book Releases Coming Soon:
Check back here often for all of the releases that are coming soon from Anne.
Coming Soon in the Morelville Mysteries Series: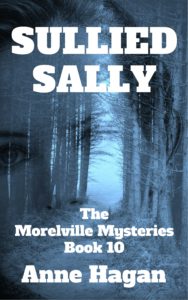 Sullied Sally – Book 10 – Comming in early 2018 – A full synopsis is in the process.
~~~
Coming Soon in the Morelville Cozies Series: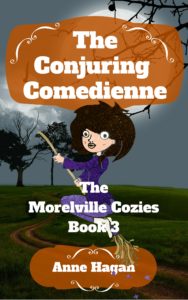 The Conjuring Comedienne – Book 3 – Early 2018.
The story will feature Faye Crane and Chloe Rossi in an all new adventure the likes of which only those two meddling mothers could get tangled up in. And, to boot, a witch on the run from her former life as a sitcom staple in Hollywood gets mixed up in it all. The thing is, no one knows she's a witch and she prefers to keep it that way!
~~~
Romance Novels Coming Soon: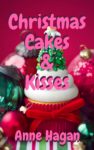 Coming for Christmas of 2018, the sweet romance novella, Christmas Cakes and Kisses, featuring the long-running, former Amish character from The Morelville Mysteries series, Hannah Yoder in a story that stands alone from the series.
Two different worlds brought together by cake…
When Hannah Yoder left the Amish order at 17, she didn't know what life had in store for her. She just knew she wanted to be free to be herself. Four years later, with the support of a loving family of choice, an adopted son entering full on toddlerhood and a new bakery starting to do well, she felt like she had almost everything. Almost. After a previous relationship fizzled out over different life goals, she decided to focus on her son, her business and completing culinary school before she gave any more thought to finding someone new to share her life with.
Morgan Barber has secrets. She hopes culinary school will be her ticket out of the life she hides from the world; a life she wants so desperately to leave behind. With her home life a constant nightmare, a career in chef's whites seems like a beautiful dream. She doesn't dare dream of anything beyond that for herself.
Assigned to work on a Christmas cake baking project together, the two young women are reluctant at first but then they begin to form a bond. Just when Hannah thinks she may have found a spark of the one thing missing in her life; that maybe she can have a relationship with Morgan, the other woman draws away and contemplates changing course entirely.
Can they come together and find joy in the season of joy?
And, out now:
Healing Embrace (the follow-up story to Broken Women) –  Released April 9th, 2017. Get it right now at Amazon for the Kindle: Healing Embrace. 
It's also available immediately at Kobo and at many other fine eBook retailers. A paperback edition is also available.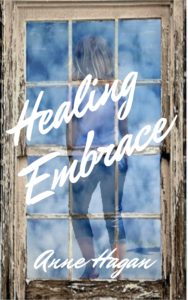 Barb and Janet were a couple…and then they weren't. What now?
 They started a tentative relationship that led to sex a little too soon. Both shied away but their friends knew the two women belonged together. They conspired to put them together in a neutral place where they could talk it out and it worked.
They talked then they started slow, actually dating the second time around…but now what? They've both been shattered by love lost. They're both wary of getting deeply involved again. It doesn't help matters any when Barb's focus gets drawn away from her own happiness to tend to the needs of others.
Janet tries to be understanding of Barb's need to be there for her family. She knows she loves the fiercely independent blonde but she's not so sure they belong together in a committed, long-term sort of way, especially when her attempts to lend a hand from time to time seem to bring out more ire than gratefulness.
Barb's dad and his health problems have her feeling years older than she already is. When she looks at the only slightly younger Janet, she sees the exuberance and inexperience of youth. She loves the curvy cop with her heart on her sleeve but she's afraid the younger woman too often leaps before she considers all of the consequences.
What will it take to convince the two women that their personalities complement each other and that they're a good match?
Introducing, a New Short Story Lesfic Romance Series:
Loving Blue in Red States – These living and loving short stories that began to release in mid-April 2017 with Sweetwater Texas, pictured below: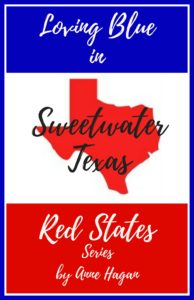 A compilation of the five stories is now available wherever ebooks are sold including: